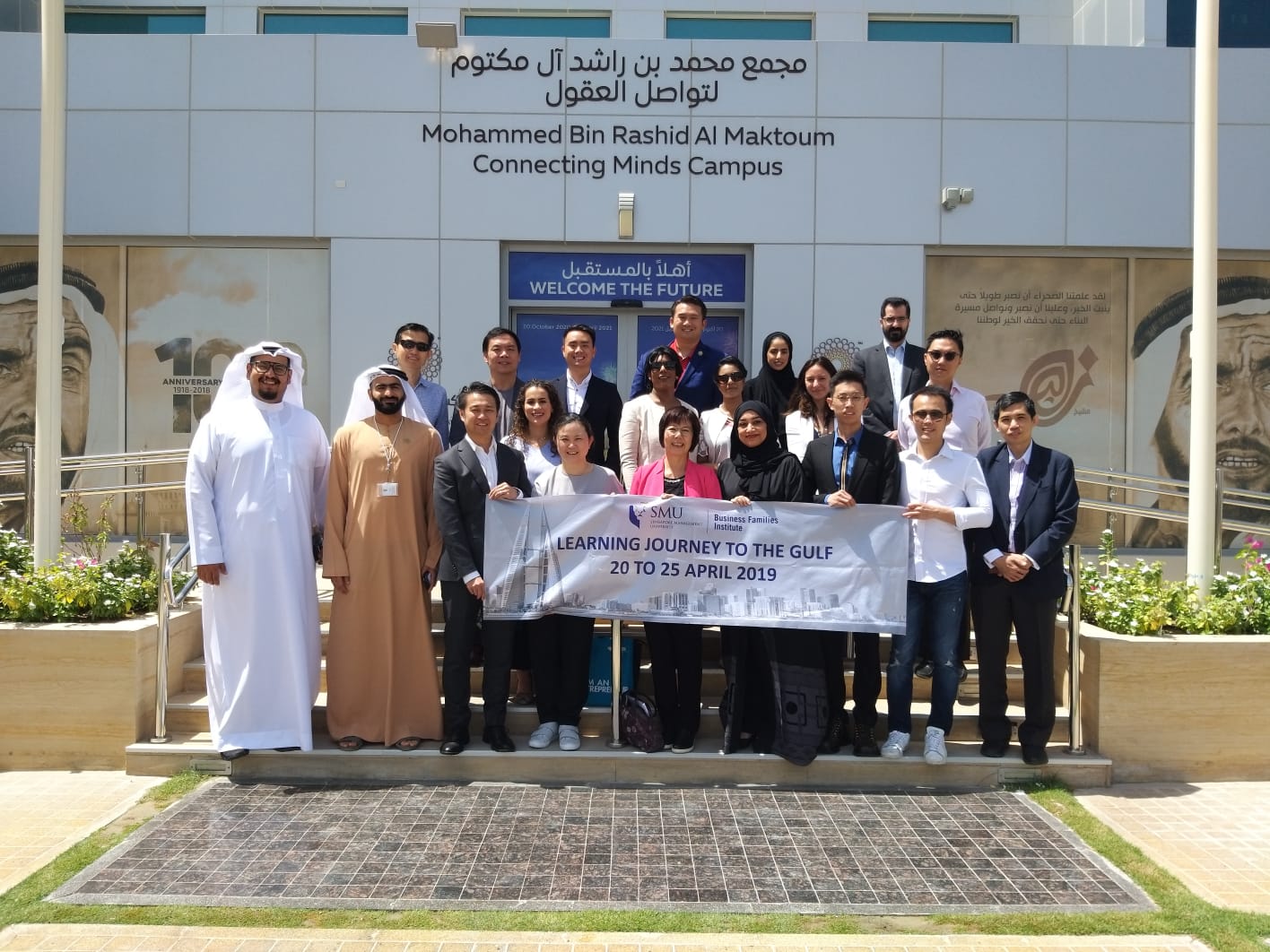 Building a Better Future through Understanding and Connectivity
One only has to mention the Arabian Gulf and impressions of boundless arid deserts come to mind. Since the first discovery of oil in Bahrain in 1932, the region, blessed with one of the world's largest oil fields, continues to present an air of mystery for many.
Co-organised with Investcorp, BFI@SMU's 8th learning journey gave our business families the opportunity to debunk common misperceptions of the region. From 21st to 25th April 2019, 11 business families from Singapore, Malaysia and Indonesia visited three key cities in the Arabian Gulf – Manama in Bahrain, Abu Dhabi and Dubai in United Arab Emirates (UAE). There, they met with top business families, senior government officials and economic catalysts, and gathered invaluable insights into the region's business climate, family cultures and latest developments.
In this article, we summarise some key learnings from our visit. We begin with a brief background on the business and economic environment of both countries.
Both Bahrain and UAE recognise the need to diversify their economies and to attract foreign investments and talent in order to propel their nations' growth. They are cognisant that oil is not a perpetual asset and the reliance on oil revenue must be reduced to protect their economies from fluctuations in global oil prices.
As highlighted during the audience with H.E. Shaikh Mohammed Bin Essa Al Khalifa, Political and economic advisor to the Crown Prince of Bahrain's Court, the dichotomy is that oil has very little to do with daily life as it provides for only 2% of the country's total employment. Structural economic reforms to correct this have yielded a range of investment opportunities and business friendly regulations for interested international investors. Bahrain's real GDP grew by 3.9% in 2017, with the non-oil economy (such as aluminium exports, financial services and technology sectors and related industries) expanding by 5% (Source: Bahrain Economic Development Board (EDB), 2018). According to H.E. Khalid Al Rumaihi, Chief Executive of Bahrain Economic Development Board (EDB), blockchain technology has been adopted to track shipments and it is no surprise that the Khalifa Bin Salman Port boasts the fastest clearance time in the Gulf Cooperation Council (GCC) countries.
Moving on to UAE, the country, which is made up of a federation of seven states, is ranked number one in the Arab world for doing business. H.E. Majid Saif Al Ghurair, Chairman, Dubai Chamber of Commerce and Industry shared that UAE has a pro-foreign investment policy and is ranked 11th by the World Bank in terms of the ease of doing business. As with Bahrain, UAE is also seeking to reduce its dependency on revenue from the petrochemical industries. Revenue from petrochemicals is utilised to fund the growth of other economies. In particular, Dubai, is in a phase of recreating itself for the new economy, shared Mr. Amit Jain, Group Chief Operating Officer and Chief Executive Officer of Emaar Properties. A participant, Mr. Wee Chin Chuan, Director of Mermaid Ventures, commented after the visit to Mubadala, the state-owned investment fund of UAE, that he was very enlightened by the economic diversification strategy to advance Abu Dhabi's natural petroleum wealth for the development of the nation, with significant investments in very promising sectors in the Gulf area and beyond.
Governance is the Key
Family firms represent 85% of Asia-Pacific businesses and contribute to 32% of the world's total market capitalisation, playing a major role in the development of their economies (Source: EY Family Business Yearbook 2014). Similarly, family firms play a central role in the economies of the GCC, which comprises Bahrain, Kuwait, Qatar, Oman, Saudi Arabia and the UAE. The family, with its extended kinship network, is probably the central element of socio-economic system in the Gulf (Source: Survey on Family Businesses in the Kingdom of Bahrain). Succession remains one of the biggest challenges and many firms may be susceptible to failure if family governance is not properly in place. This is even more critical in the Gulf as there is a strong cultural and traditional preference for family, which discourages separation of ownership from management.
During this trip, we saw two exemplary business families which have formalised the process for leadership transition in their families.
Al Zayani Investments Group was established by Khalid Rashid Al Zayani, Honorary Chairman of Al Zayani Investments Group, and his brothers in 1977 as a consequence of differences in strategy and approach in the earlier generation. The Group has become a dynamic company engaged in diversified industries through its subsidiaries and joint ventures, including industrial, automobiles, and real estate sectors in Bahrain. Al Zayani Investments was the first private group to capitalise on down streaming next to a source of metal by commissioning Midal Cables Ltd in 1978 following the establishment of Aluminium Bahrain (ALBA), the first smelter in the Middle East.
Our participants had met with one of the second-generation business family leaders, Mr. Rashid Hamid Al Zayani, Director of Al Zayani Investments & Midal Cables Ltd. He shared, "A family member who wishes to join the business and is qualified to do so will start at an entry level position and be given milestones to achieve over a course of 3 years before they can be considered for a management position." He went on to share that no member of the Al Zayani family should be appointed CEO of a company under Al Zayani Investments. Quoting Chairman Khalid Rashid Al Zayani (Source: Survey on Family Businesses in the Kingdom of Bahrain), he believed that family members should be freed from the daily operations of the family company to actively pursue opportunities that will value-add, while the business operations should be left to the professionals. A case in point is Mr. Khalid Hamed Al Zayani, Business Development Manager, another second-generation family member, who is actively building a Fintech business through the family office.
The Kanoo Group, established in 1890 by Mr. Yusuf Bin Ahmed Kanoo (YBA Kanoo), had its humble beginnings as a small trading and shipping enterprise founded in Bahrain. It has since grown into one of the largest family-owned conglomerates in the Gulf region with diversified business activities ranging from shipping, travel, machinery, engineering, oil & gas, power and industrial projects to exhibition services, courier services, logistics, specialty chemicals and business centres and other retail and commercial activities.
Family businesses are typically complex as challenges of the business are intertwined with family dynamics. In the case of Kanoo Group, this complexity is multiplied by a business that spans six generations. Mr. Faisal Khalid Kanoo, Director, YBA Kanoo, recognises that while the family constitution is not the elixir to every problem, having a "breathing document" to guide family members to adhere to good processes and to respect the reporting structure is fundamental for good governance.
Mr. Kanoo shared that Kanoo's Family Council is made up of intergenerational family members. Positions in the company are secured solely based on merit. Family members have to work outside of Kanoo Group for 3 years to learn strong discipline and good work ethics before joining the business. The executive committees of the seven business divisions are made up of Presidents and Vice Presidents from the Kanoo Family, while the rest come from the Senior Group Management. In this way, the decision-making does not lie in the hand of a single person but with the Executive Committee instead. There is also a clear demarcation of how investments are assessed in the family office and the business. The stance for the family office shall be long-term wealth preservation while the latter's focus is more entrepreneurial, tactical or even aggressive.
Succession planning is a process and both the Al Zayani and Kanoo Families have set their family futures in the right direction by putting in place family governance structures. A participant on the Learning Journey, Dato' Victor Tan, CEO of Top International Holding, noted that "Both family members and non-family professionals should be given equal opportunities to serve the business. However, the latter must have alignment to both the company and family cultures in order for the partnership to work out well." Another participant, Mr. Alfred Harioprastio Hidayat, Non-executive Director of PT Semen Imasco Asiatic, shared that the sessions gave him good takeaways on the importance of governance in building a sustainable family business.
Sustainability is the Future
Covered by endless light sand-coloured terrain and almost non-existent vegetation, the Arabian Gulf takes the meaning of sustainability to a whole new level.
According to Masdar City, a Mudabala company headquarter in Abu Dhabi, more than 60% of the world's population – 5 billion people – will live in cities by 2030. In order to cope with population growth while conserving natural resources, cities must adapt in order to support sustainable living. In 2008, Masdar City embarked on a daring journey to develop the world's most sustainable low-carbon city. Today, Masdar City is successfully pioneering a "greenprint" on how cities can accommodate rapid urbanisation while dramatically reducing their energy and water needs and waste production.
Participants had an eye-opening tour of the showcase of renewable energy technologies that were put into operations since the last decade, from concentrated solar power, photovoltaic power, to waste-to-energy and wind, everyone was in awe and inspired by the science applied for the greater good of mankind.
Global sustainability is a challenge in which both genders can play a role. The 'Women in Sustainability, Environment and Renewable Energy' (WiSER) platform led by Masdar launched in the United Nations General Assembly in September 2015 allows inspiring women and girls to play an active role in addressing global sustainability challenges.
Ms. Shaikha Al Nowais, Vice President – Owner Relationship Management of Rotana Hotels and second-generation family member of the Al Nowais family, shared her efforts in driving sustainability of another form in the idyllic Saadiyat Rotana Resort and Villas. Besides taking special care of the beaches during the annual hawksbill turtle nesting season in Abu Dhabi, support for local art and giving back to the community are also top priority. Every painting in the 327 rooms and suites, as well as the 13 beach villas, is a work of art on Abu Dhabi wildlife by local artist Ashwaq Abdulla introduces hotel guests to the protected destination's flora and fauna. The carpets in the resort premise were also woven by Afghan women affected by political unrest and warfare.
The yield from sustainable developments would truly be impactful and inclusive with the integration of both environmental and social sustainability measures. It is everyone's hope to see more of such initiatives.
Sky is the Limit
Driving into Dubai, one may think he or she had just entered a city in the clouds. Skyscrapers and buildings that are beyond imaginable heights appear everywhere in the skyline. To say that Emaar Properties is the transformer of the city is no exaggeration. The iconic Burj Khalifa, the tallest structure and building in the world stands at a dizzying height of over 828 metres, the Dubai Mall and the Dubai Fountain are all masterpieces of the Group. We can expect another architectural feat, the Dubai Creek Tower, to be ready in 2020.
Speaking to our participants, Mr. Jain explained the vision of Emaar, which incorporates high tech with high touch to meet the needs of all customers.
Participants on this learning journey also had the privilege of visiting the Expo 2020 Dubai ahead of its opening on 20 October 2020. As technological advancement enables smarter movement of knowledge, ideas and goods, a new world of possibilities unfolds. The Expo 2020's theme is most apt and timely - 'Connecting Minds, Creating the future' embodies collaboration and offers a platform to co-create for the benefit of all. The Expo's sub-themes of Opportunity, Mobility and Sustainability are the key pillars that will guide the journey.
"Meeting people from different cultural contexts dispels preconceived notions," Ms Priscilla Abishegam, Director of Azimuth opined. Indeed, this is what the BFI's Learning Journey hopes to achieve – break down walls so that minds can be connected, bonds can be forged and a better future can be built. For our participants on this trip, the sky is indeed the limit as we parted ways At the Top, Burj Khalifa SKY.
Our deepest appreciation and gratitude goes once again to Investcorp for putting together this truly unforgettable experience.
About Co-Organizer:
Investcorp is a leading global manager of alternative investments with US$22.5 billion in total AUM as at December 31, 2018. For more information, please visit: https://www.investcorp.com/about-us