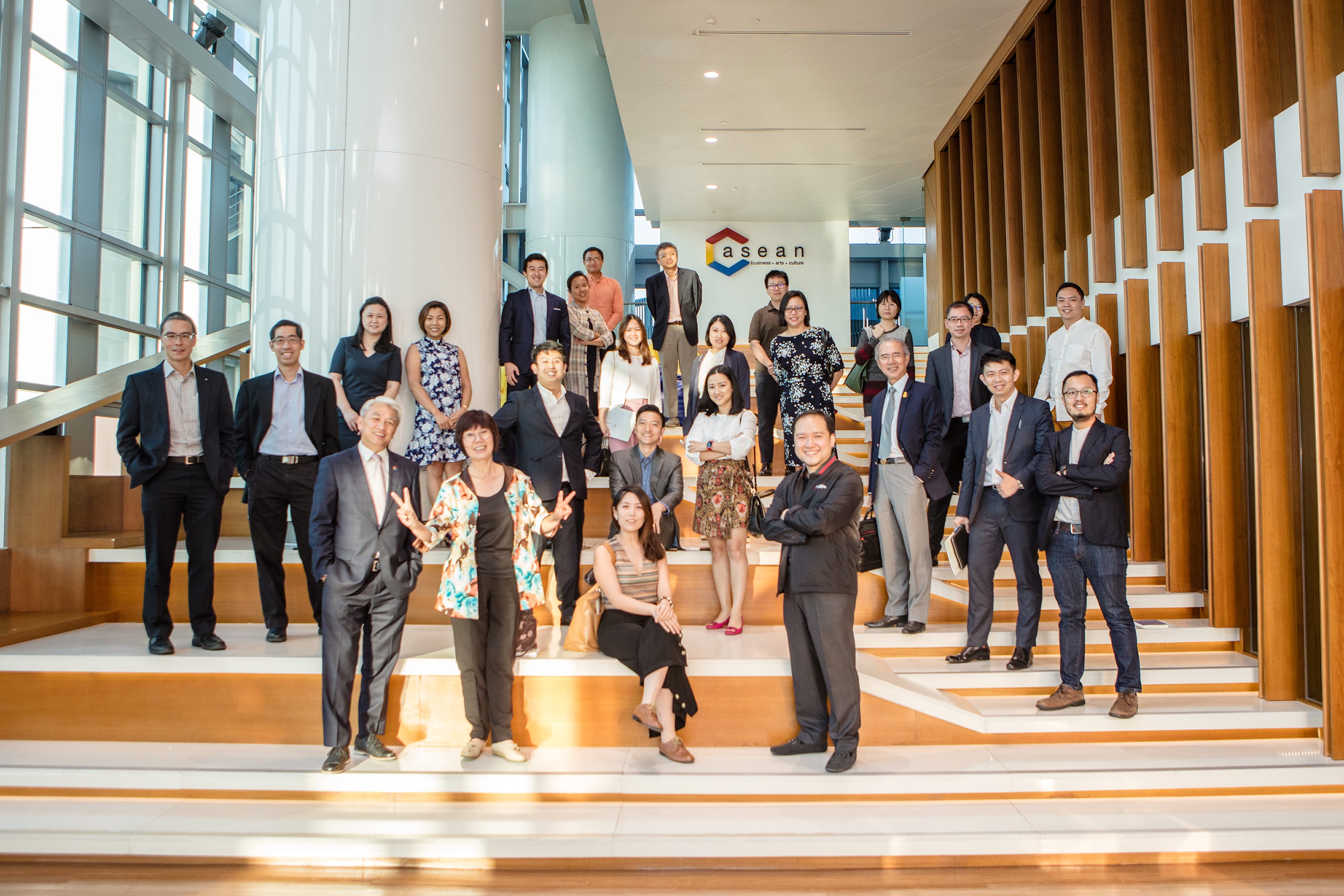 Leading the family enterprise is a tall order. How can the next-gen, sandwiched between the founders and the relentless digital economy, set up? Thai business leaders reflect on their respect for tradition as they rev up for the future.
The Business Families Institute at Singapore Management University (BFI@SMU) is pleased to kick-start the first of its learning journeys in 2019 to Bangkok, Thailand from 28 February to 1 March. A group of 20 participants led by Professor Annie Koh, Academic Director of the Institute to meet Thai business leaders to learn how family businesses contribute to the Thai economy while harnessing technology and digital commerce. Situated in the heart of Southeast Asia, Thailand is one of the region's most dynamic countries economically and socially. Among the top 20 largest exporters globally, the start-up community in the country is also experiencing vibrant growth.
With less than one-third of the country's family businesses surviving the transition from the second to the third generation, succession is without doubt a key concern for business families in Thailand.
The learning journey began with the case study launch, which examined the many reasons behind the success of Thailand's longest-running amusement park – Siam Park City in Bangkok. Titled 'Growing in Unity – the Luangamornlert Family's Ride Through Challenges', the case was spearheaded by BFI together with Bangkok University's School of Entrepreneurship and Management (BUSEM).
Centered on Thailand's Luangamornlert family, an exemplary Chinese family-owned business in Thailand, the case study illustrates the resilience and togetherness of the Luangamornlerts as a family as they build the business over nearly four decades.
Participants went on to learn from other Thai business leaders. This is an account of valuable insights gathered from the learning journey.
Building on a Legacy
Celebrate the past, reflect on the present and prepare for the future. This is the strategy for the pursuit of Growth and going Global for a 67-year-old company under the leadership of Singaporean Mr Ho Ren Hua.
Led by Mr Ho Ren Hua, the CEO, is the eldest son of Mr Ho Kwon Ping and a grandson of TWPC founder Ho Rih Hwa, Thai Wah Starch Public Company (TWPC), one of Thailand's most renowned companies that merged its heritage brands to expand globally. TWPC has sold vermicelli and noodle products for decades under its Double Dragon, Phoenix and Double Kilin brands, dominating 40% of the Thai market. TWPC is also a global leader in tapioca starch products. It owns Rose Brand tapioca starch flour, which is used in the manufacture of snacks and MSG.
The merger has been essential as a springboard for TWPC's forays into the region. The year 2017 was pivotal for TWPC as its business saw a significant expansion beyond Thailand.
Mr Ho told the participants that TWPC is expanding into Cambodia, Vietnam and Myanmar as the three countries record strong consumer spending. "Currently 90% of our food business is from Thailand but with these latest developments we are targeting for export in order to contribute to 20-30% within the next three to five years," he said. TWPC has a market capitalization of S$302 million.
As the CEO, he thinks global and acts local to drive the culture of the business. This is reflected in how he mandates presentation slides to be written in English but presented in Thai at company and official meetings.
For him, there needs to be a respect for the work of the previous generations and their resilience. "We need to think about legacy and respect for the previous generation, and it is very important we listen to the ground and to those who have been leaders in the organisation," he stressed. He said there is a "difference" between family business, as in just a business run by people who are related by blood, and business family, where a family in business stays together, however, the business may change.
Leveraging TWPC's leadership in tapioca production – which mainly involves buying the tapioca root, processing it and distributing the end of tapioca starch product – Mr Ho has invested in automation and technology to raise productivity for TWPC's customers. "Tapioca is a niche crop that is primarily grown in the ASEAN and therefore is less volatile to global events that impact commodities such as oil, soybean, sugar and others," Mr Ho pointed out. By positioning TWPC as a premium branded export product providing customers with a solutions application rather than a commodity, TWPC is in position to maintain "our margins at a level that is higher than pure commodity products."
TWPC now has more than 10 operations across Asia Pacific Region. TWPC is investing in a long-term strategy for growth through technological innovation and opened the Group Innovation Center in Bangkok in early 2017 to improve through innovation and R&D.
A participant on the Learning Journey, Ms Chua Meimei, was very moved by the sharing of Mr Ho. She noted there was "chemistry" between Mr Ho and his grandfather, marked by "mutual respect and understanding."
Diversifying and Staying United
As Mr Kirit Shah, the Chairman of GP Group – a strategic investment group which has a wide footprint in diverse sectors such as resources, logistics, pharmaceuticals, aviation and technology over 150 years of its history – stressed that there are challenges families face. The Shah family had its origins as a rice-trading business in Mumbai, India, in 1868. It was their entrepreneurial drive to travel the unbeaten path to break into frontier markets that help them grow the business across Asia and around the world. There are now 16 companies under the Group.
One could imagine the journey to be not an easy one. Indeed, it is the question of how a family grows in unity despite all the odds as Mr Shah emphasized. This touches on Generation, the first of the 4G framework, the need to focus on generating a family connection. It is vital that the family stays close as a family through thick and thin. Families also need to collaborate and build up their own team to work together and be curious about the business environment so that they can leverage on the right opportunities.
Giving Back by Growing a New Generation of Entrepreneurs
Participants received a warm reception by Mr Panote Sirivadhanabhakdi, the Director of ThaiBev, and his well-spoken team. It was a pleasant surprise when his elder brother Mr Thapana Sirivadhanabhakdi, the President and CEO of ThaiBev, dropped in to make the closing remarks. He asked a few questions of his guests.
"How many of you have worked over 10 years for your family business?" he said. A few hands shot up in the room. "How many of you have worked less than 5 years in your family business?" he said. Many more hands were raised. "How has it been?" he said, and the mood perceptibly changed. He had put his finger squarely on an unsettling conundrum faced by the next-gen leaders, as they grapple delicately with transition and change between the traditional way of doing things and the challenges of Industrial Revolution 4.0.
He encouraged the next gen to give their seniors time, as the process of generational transition can be equally unsettling for both parties. His advice on how next gens can tackle the key issues they are facing to ensure success? He suggested for them to venture into new projects that they can value-add with their knowledge in management and technology, and getting new proposals approved instead of seeking the authority to sign cheques.
He also shared how, as a responsible family enterprise, ThaiBev empathises with the challenges of those who dream of starting their own business. He pointed out that his father, Mr Charoen Sirivadhanabhakdi, who founded ThaiBev in 2003, had also experienced poverty as a child.
As the Southeast Asia's largest beverage company, ThaiBev has a market capitalisation of over US$13 billion. Under Mr Thapana's leadership, it has been instrumental in growing the startup sector in Thailand by supporting a non-profit networking platform for young business leaders across the region.
C asean, which believes in "Collaboration for the better of ASEAN's connectivity", was set up to collaborate, catalyse and build competitiveness not just for Thai startups, but across ASEAN as well.
The NGO has an office space covering some 8,500 square metres at CW Tower in Bangkok. It has training rooms to train leadership skills for young business leaders aiming to take on leadership roles in ASEAN, an auditorium, a TV filming studio, a library, a co-working space and so on. It offers forums, events, talks and various programmes to hone business acumen and thought leadership in the startup scene. It has also provided grants for a great diversity of entrepreneurs such as cancer survivors. C ASEAN also runs a very popular startup competition TV show called the Win Win War TV Game Show, for aspiring entrepreneurs.
Its pitch is that everyone has a dream that can change Thai society for the better. The first competition was targeted at the first-generation entrepreneurs of Thailand committed to building their dream business and sustainable society. Winners would receive 2 million Thai Baht (S$86,000) and a team of business leaders as their advisors.
Business aside, C asean also serves as a platform for the ASEAN arts and cultural dialogues, as art and culture are an essential tool to build harmonious friendships and an ASEAN identity.
Participants came away very impressed at how ThaiBev was fulfilling its 4G mission of thinking Generations, Growing, Giving and going Global. Participants found the sharing inspiring at two levels. At one level, it was great to see the two second-gen siblings working together, with one participant Stephen Chen commenting Mr Thapana as being "frank and open in his sharing." At another level, it showed how successful business families could come together to give back by nurturing young entrepreneurs of ASEAN countries.
"I think ThaiBev has done more than the usual a company could do, I hope we can see their model in Singapore," Roy Tan feedback.
Discovering Doing Business in Thailand and Opportunities in its Startup Scene
During the learning journey, panellists from Cento Ventures presented an overview of the Thai startup scene.
Investors are attracted to the strong showing of the startup sector of Southeast Asia. According to Cento Ventures, a series A venture capital firm specialising in under-invested emerging digital markets in Southeast Asia, a record amount of more than US$11B was invested during 2018, almost doubling $5.8B invested in 2017.
The Thai tech scene today is very vibrant, thanks to strong government support and investments by Alibaba.com, JD.com and Grab. The junta regards startups as integral to its "Thailand 4.0" policy, shifting the economy from a labour-intensive one to one based on knowledge and tech. There is also talk of removing the 49% foreign ownership cap, which restricts the amount of foreign funding a Thai startup can receive.
The government has also formulated a regulatory framework for cryptocurrencies and granted licences for crypto exchanges to operate in Thailand. Google, too, has partnered Thailand's digital innovation hub to build a tech academy. The Bangkok Cyber Tech District is also geared to house 20,000 local and international startups.
According to e27, there were over 500 startups in Thailand in 2018, each had raised US$4.9 million on average. Already the government also plans to transform other cities like Chiangmai into secondary tech hub as well.
One of the more established startups is Eatigo, which offers dining deals during off-peak hours. It was launched in 2014 and has now scaled in 6 countries, including cities like Manila, Kuala Lumpur, Mumbai, Singapore and Hong Kong. Another Bangkok-based startup, Pomelo Fashion, raised US$19 million in a series B round led by Chinese e-commerce giant JD.com and Indonesian investment firm Provident Capital Partners. Pomelo fashion is now available to the other ASEAN markets on JD.com's platforms and it could be available to Chinese consumers in the future too.
One of the panellists that spoke was Mr Tiwa York, the CEO of Kaidee. It is Thailand's largest online marketplace. In a country with a population of 69.4 million, Kaidee has 35 million Thai users and seen transactions worth 100 billion Thai Baht (S$4.27 billion). The CEO of Kaidee himself used to be the managing director of e-commerce for Tencent's Thai operations, having worked in digital marketing agencies.
Other entrepreneurs who spoke were David Chmelar of the iPrice Group, an online shopping aggregator, and Oranuch Lerdsuwankij of Techsauce, a media content company for the tech ecosystem.
Participants heard from the panellists how the hyperlocal nature of the Thai e-commerce scene was a huge advantage in the growth of its tech darlings, as the Thais prefer to use the Thai language rather than English when shopping online. A prime weakness was the short-term grown horizons of startups, unlike Singapore startup companies.
The tech companies also have the same dilemma of scaling the business and balancing with headcount needs, which can hamper growth. Foreign talents often do not know about the opportunities of the Thai market and this can explain their scarce presence in digital commerce. It is in these areas that the government and private investors hope to iron out in order to catalyse the growth of the Thai digital economy.
The sharing piqued the interest of the Learning Journey participants, with a few indicating their wish for a longer session for them to understand the challenges and opportunities raised by the startups, and the nature of deal flows between Thailand and Singapore.
Coupled with United Overseas Bank Thailand's briefing by Mr Manop Udomkerdmongkol, Economist, Vice President Global Economics and Markets Research, on the country's economic outlook in 2019 and Mr Yuttana Saithai, Head of Foreign Direct Investment, on expanding business in Thailand, the trip whetted the participants' appetite to know more about doing business with Thailand.
Notwithstanding, this session served as a good introduction, as evidently acknowledged by Elvin Tan who learned more about how Thailand startups were set up and Naing Ye Lin who came to understand the tech sector in Thailand and the players in the startup scene better.