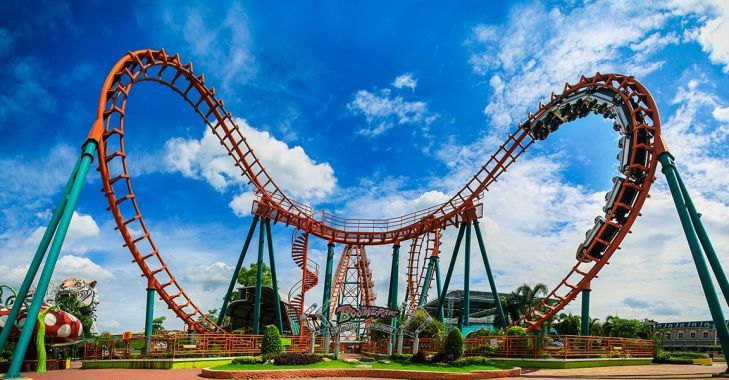 With less than one-third of the country's family businesses surviving the transition from the second to the third generation, succession is without doubt a key concern for business families in Thailand.
A newly launched case study which examined the many reasons behind the success of Thailand's longest-running amusement park – Siam Park City in Bangkok, hopes to shed some insights in this space, and at a timely juncture no less.
Titled 'Growing in Unity – the Luangamornlert Family's Ride Through Challenges', the case led by Singapore Management University's (SMU) Business Families Institute (BFI) together with Bangkok University's School of Entrepreneurship and Management (BUSEM), was launched in Thailand on 28 February 2019. The audience included 20 business family members from Singapore who participated in BFI's Learning Journey to Thailand.
Centered on Thailand's Luangamornlert family, an exemplary Chinese family-owned business in Thailand, the case study illustrates the resilience and togetherness of the Luangamornlerts as a family as they build the business over nearly four decades.
Mr Chaiwat Luangamornlert, the founder of Siam Park City, has been a successful businessman since the 1960s. He began building up his fortune from his fisheries business and real-estate developments, before entering into the leisure and attractions sector. In 1980, he opened Thailand's first waterpark with a strong belief that he can bring endless happiness to Thais at an affordable price. Apart from being the founder of the waterpark business in the region, the father of three is also well recognised as a man with vision, being the first real estate developer who initiated a housing estate project in Thailand.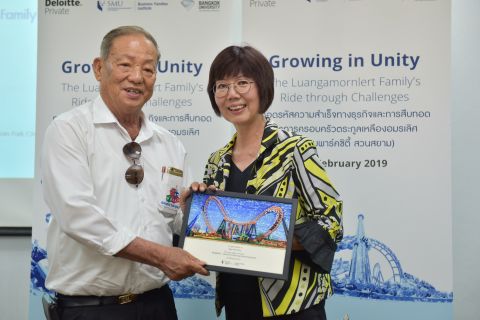 [Photo: SMU Prof Annie Koh with Mr Chaiwat Luangamornlert.]
The family never faltered in the face of challenges, the most trying being the turbulence brought about by the Asian Financial Crisis. That Siam Park City managed to sail through the challenging phase, Ms Chirawan Diskul, the daughter of the founder, attributes it to the sheer resilience of her father, and credits the close-knit relationship shared by all the family members who ran the business.
Speaking at the launch event, Mrs Noppagarn Luangamornlert, who is the Deputy Managing Director of Siam Park Bangkok Co Ltd, echoed Ms Diskul's comments. She said, "Keeping your business in business isn't easy, and running a family business makes things even more challenging… An important question is: how can we ride through those challenges while maintaining good relations among family members?"
The answer lies in having clear roles and goals.
"The Luangamornlert family members are well aware of our founder's ambition and their roles in making an international standard amusement park and waterpark affordable for Thais… we are truly committed to business but never neglect family. Also, we always keep an open mind and are prepared for changes derived from globalisation in order to empower our family and our business, to enable it to survive through tough times," Mrs Luangamornlert added.
The family is now gradually transitioning into its second generation leadership. The second generation members have assumed different roles and responsibilities in the organisation and some members of the third generation are also receiving exposure to the business in various ways. Through the years, the Park's facilities have grown, and attractions such as global events and festivals have been added. With its latest 'Bangkok World' project which began last year, the Luangamornlert family hopes to provide an authentic experience of ancient Bangkok to visitors, and increase visitorship by 300,000 in the next three years. The 81-year-old founder intends for this to be the final project that he will oversee, before he hands the baton to his successor.
This is the final case in a series of four on family businesses in Southeast Asia, made possible by a generous research grant from Deloitte Southeast Asia to SMU in 2014. The other cases were 'Paving a Way for a New Generation: A Case Study of the KBZ Family' in 2016; 'Scaling up Excellence – The YCH Journey' in 2017; and 'The Ciputra Story: A Journey in Family and Social Entrepreneurship' in 2018. The case studies serve to deepen the research and insights into this region's business families, with an aim to contribute to the overall sustainability of the business families in Asia.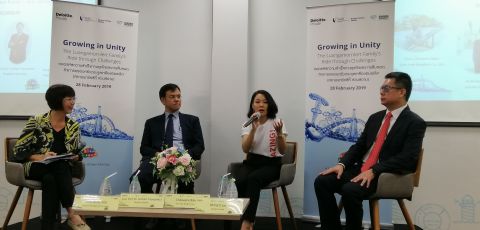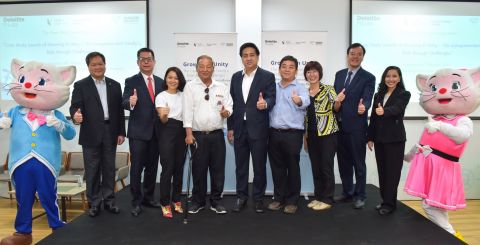 [Top photo: The case launch event held at Siam Park City on 28 February 2019 also included a panel discussion moderated by (far left) Prof Annie Koh, SMU's Vice President for Business Development and Academic Director of BFI. Joining her on the panel was (2nd to 4th from left) Dr Suchart Tripopsakul, Asst Prof (Business Administration), Bangkok University; Ms Khun Chirawan Diskul, Vice President, Siam Park Bangkok Co Ltd; and Mr Richard Loi, Leader, Southeast Asia, Deloitte Private.
Bottom photo: The Siam City Park team and expert panelists poses for a picture with the park mascots.]
[Featured photo: Siam Park City in Bangkok Thailand.]
Last updated on 24 Jun 2019 .